Are you a fiverr seller and looking for fiverr gig promotion ideas? This article will give you an in-depth idea with the tutorials of fiverr gig promotion ideas. If you apply the tips, you will get more sales.
Fiverr is a market of millions of freelance sellers. Every day a lot of new sellers are joining regularly. Due to Its popularity, fiverr has got huge competitions.
For a new seller, this market is being harder day by day. Earlier time, seller just post the gig and start getting the sell.
Now It does not work in those ways. New sellers get sell hardly. But all the sellers can get huge sales by promoting their gig outside fiverr.
It's easy and simple. This article is all about fiverr gig promotion outside the marketplace.
Quora: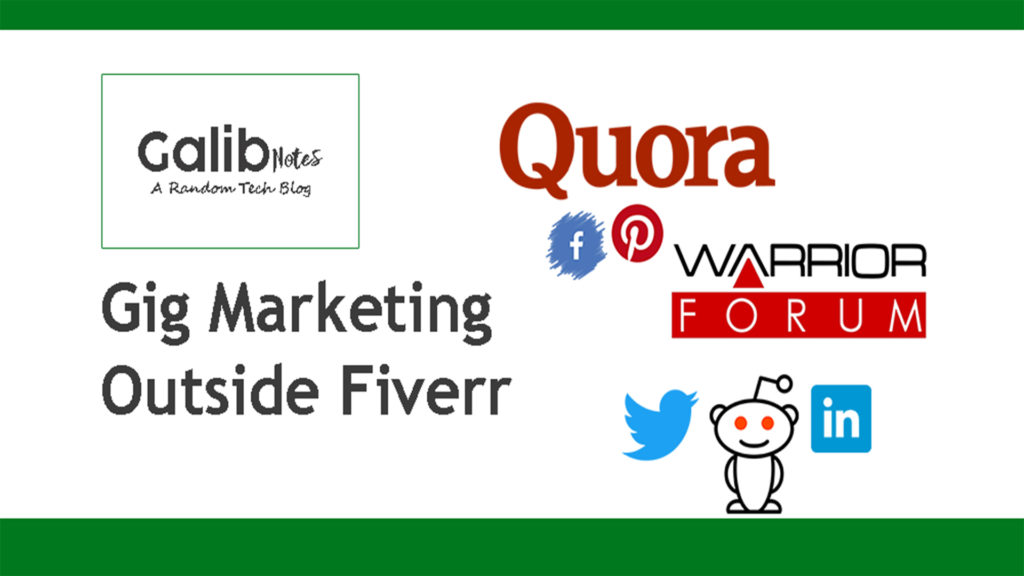 Quora is a QnA platform. The user asks questions and the expert gives an answer. You can promote your gig here at quora.
Open an account and fill up all the necessary information. Try to make your profile professional and expert in your own category.
Write some blogs on this platform. This will boost you up here.
NOW, search the question related to your gigs and reply to them. When you will reply to them you can suggest your service by linking your gig inside your answer.
Do not do this always to avoid the ban. Also do not just directly promote the gig.
Give detailed answers to any questions. It will increase your trust in the users. For example, someone has asked, " How to do better email marketing?"
You can reply to the user in all details like how to start, what is the process, how to be effective, dos and don'ts etc.
Inside your question you can say, a good template will boost your click rate so you can try this template design service. Just let them help and promote your gig.
Let's say another example. A user asks on quora about his website. The site is not getting enough conversation in recent times.
You can simply audit the site and give him some recommendations. It's nice for promoting SEO service but if you are a designer?
Well, in that case, you can say to the user about your own recommendation. You can simply say about the looking of the site and the necessity of good design. Then you can promote your design-related gigs here.
Do not always write for promoting the gig, write to help users. Do not post-gig links in all the replies. You will get banned then. Promote hardly.
Writing blogs is nice to have but not mandatory. Do not do spamming to avoid a ban. If you do not know the answer, try to relate your expertise.
If still it's not worked then just skip the questions. After a few months, you will see a lot of sales on your gig.
In similar ways, you can try other QnA related to your service. Another alternative site is StackOverflow, ask.fm, Answerbag, Super User etc.
Always keep in mind, no spamming. Reply to them to contribute and help them, not for promoting yourself.
Warrior forum:

Warrior Forum is another great place to promote your gigs. This forum has worldwide millions of users. There is a marketer, affiliate worker, designer, developer, content maker and so on.
You just need to reach them. Firstly, find out your target people and category. Like, If you are an email marketer then your target will be affiliate marketers as they need email templates and marketing services for themselves.
If you are a designer, your target will be an eCommerce buyer. After selecting this try to start making conversation, give solutions and contribute them. promote gig sometimes.
Warrior forum has very straight rules so be careful about this. Follow all their Terms and conditions. Sometimes buyer sends a message personally.
So check your inbox sometimes. Do not do spamming or copy the past answer. If you don't know the answer, skip or learn from other sources first and then reply.
Promote a similar way to quora.
Social Media:

Social Media is another way to promote your gigs outside fiverr. Fiverr encourage you to share gigs in social media which actually shows how important it is!
Facebook has popularity all over the world and thus the potential buyer is on facebook. You can create a page and start sharing your recent work, service details and you can go for bosting.
But promoting fiverr gig directly with paid ads is not allowed. Be aware of this rule to avoid warnings. User hashtags to share your works. Sometimes, buyers posted to facebook for a worker, you get them by regular search.
Another way is to send a message to the business pages for work. Just make a target area and category. Find a business organization and send them messages professionally.
Messenger has options to use my days and you can upload service details there to get more views. For Instagram, You can upload service-related images, portfolios with has tags, can comment to other buyers.
This will bring a client to you. You can twite regularly. Add hashtags, retweet others and follow back. Also, you can retweet popular pages with your service link.
Send the text to potential buyers and make your profile standouts.
Pinterest has USA-based users mostly. So if you want to get a buyer from USA you can try Pinterest. Try to be active on pinterest.
Do regular pins, comments on others, add your gig and fiverr links, follow others and reply to a personal message. It will work very nice for your promotion.
Many fiverr sellers get start selling from pinterest.
Linkedin is a professional networking site but still, you can promote your gig ta LinkedIn. Linkedin has a vast amount of client and you can search them directly.
Connect with business people, let them know your service. Sending a personal message and writing blogs on LinkedIn is nice to do.
A blog in LinkedIn usually gets rank in google quickly and thus it gets a huge Rafique. Also, you can short your searching anyways you wanted to do.
So if you want to search people from texas united stats you can search CEO at Texas USA. Simple to do and you should give it a try.
Reddit is another social site to promote your gigs. But Its not as friendly as another site is. You need to learn first then you can use and utilize for your gig share.
You can get all the tutorials on youtube. Lastly for all sites, do not just random share gigs anywhere. Make relations and make proper placements.
YouTube and Skype:

YouTube is an easy place to promote gigs. You can make tutorials, video content, tricks and project demonstrations. After making a video, post it on youtube and add your gig link in descriptions.
This will work when your video will get views. For skype the only things we can do is, sending clients about our latest works. In that case, check other sellers' reviews and search the buyer in skype.
If you get any, send them an invitation or gig link. But Its recommend doing this. It is a kind of spamming.
Blogging:
You can set up your won blog and start writing content. If it starts getting user, you can promote your gigs then. But this is a lengthy way to do. A blog usually takes a few months to start making visitors.
But in this way, you will get huge sell in the future and top sellers in fiverr often do this. Find a name related to your service, setup site and write content regularly.
You can hire a content writer also if you are too busy.
You can write a guest post on a popular blogging site. Some blogs have open signup system for all and some do not.
So if you do not get options, you can contact blog admins for further help. You can also ask any blog admin to post a review of your services.
But for this, you may need to pay to the site owners.
If you start making promotions of your gig outside fiverr, you will get sell but It will take time.
So keep working with the patient and one day you will be a top-rated seller hopefully.
Greensoft is providing the best WordPress solution for your business. If you need any service related to WordPress, You are welcome to contact Greensoft here on Facebook Page.