The buyer request on fiverr is the way to present your gig directly to the buyer. If you can present in a professional way, you will get the job 90% time.
Senior sellers usually know how to write buyer request on fiverr but new sellers don't know most of the time. In this blog, I will breakdown all the secrets about the buyer requests.
If you did not read the blog about how to create Fiverr account – 5 tips Updated in 2020, read it now. It will help you to optimize your fiverr account. If you want to make money from facebook then read Earn money from your Facebook page monetization
Read and be the PRO seller in this section. As you know, the buyer request section has limited space for writing so you can not write details cover latter. You have to limit the message.
Now, Before explaining what should you write, let me show in reverse order and explain what buyers see from there dashboard!
If the buyer does not get any service or not interested in search. Then they post in the buyer request on fiverr.
Fiverr review and approve the post and it comes to the seller like you. A lot of sellers apply from all over the world.
Then again, when buyer login, the get all the request as a list like the following.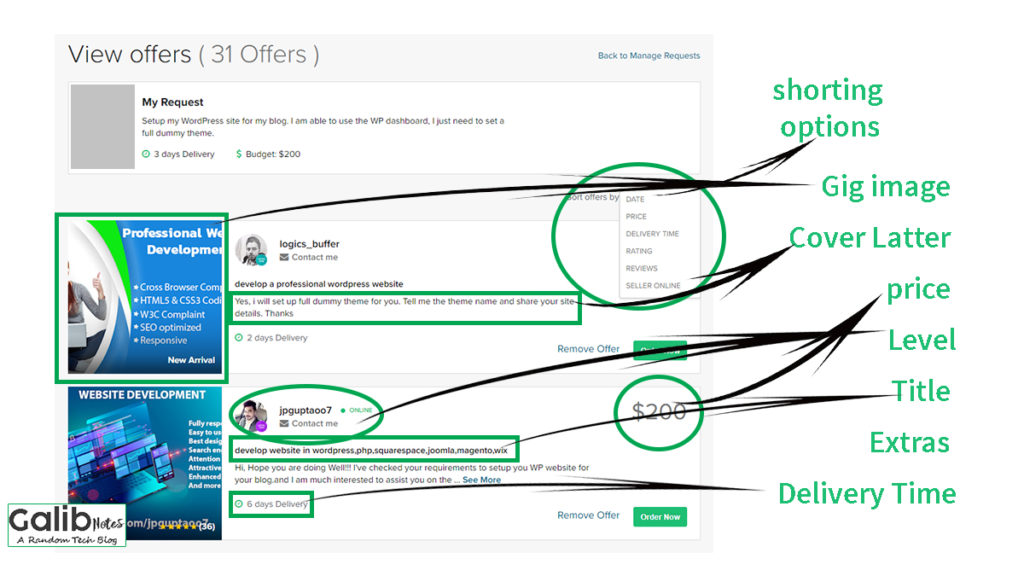 As you see, the buyer always sees your name with level, gig image, price, your message, extras and delivery time.
If you notice the right side arrow icon, a buyer can short all the posts with time, price, delivery date, ratting and review.
Now, among all this, you can not change rating, review, your level. So let this go. Rest all the factors you need to care while applying for Buyer request on fiverr.
Let me explain one by one so you can understand. Come to the seller side now.
Best description for buyer request on fiverr! Read from here…
Application Message(Cover Latter):

The application message is the most important section for a buyer and for a seller. Doing a nice presentation can bring direct sell.
But new sellers always do mistakes in these sections and lose clients. Let me describe one by one you need to do.
*Starting sentence is really most important among the message. The buyer looks here at starting to decide to check a full message or not. Read buyer text 2-3 times or more and find out what exactly the buyer looking for.
Your duty is to say buyer, you understand buyer requirement, you can do his/her job. And you will take this time for the job.
The buyer wants to get a WordPress setup and you can do that obviously. So you must start with the main keywords. After the main keywords, add the time you want to take.
*After the first 1-2 sentences, add your portfolio link and this portfolio must be related. Irrelevant portfolios can lead the buyer to bounced from your gig.
Finally, ask the buyer for further discussion. Keep in mind that, all of your requests went to the buyer as a single paragraph, no spacing, no line gap.
So it's better to write a small and clean cover letter. The last line should be inviting for the next discussion and thanks.
Also do not add irrelevant sentences and skills in the cover letter. Add everything related buyer needed at Buyer request on fiverr.
Proofread your offers before you submit it. Is it written clearly? Are there misspellings?
No matter any kind of project you're requesting on, a poorly written proposal suggests a lack of interest and poor work habits. Neither of those is going to work in your favor.
Gig Image and Title:

Gig image and the title have been always important for buyer request on fiverr. Not only buyer request but also for getting direct sell.
But as you can not change them daily while sending the new requests, so you need to set the best image and title in your gig on gig posting time.
If you did not read How to create a gig on Fiverr that will get rank and SEO for fiverr gig. It will help you to post better titles.
Service Price:

Price should be balanced with other sellers because it displays in the bigger font on the right side. Buyer care charges also.
If the buyer gives an estimated price, you can bid for that. If not then give a balanced price for the job.
Not so high, not so low. Sometimes a seller gives a dummy price and sometimes they give so low. Read Fiverr gig ranking formula 2020
I personally discourage doing this. You are selling your skills not just begging. So give it the best value and let your buyer help you to buy the gig.
Delivery Time:

The buyer can short all the offers based on delivery time. It actually shows the importance of delivery time.
It's said that, if you have less delivery time, Chances of getting the job will be high for you. But remember, don't just put one day time just because of getting sell.
If you can not deliver the job within a fixed time, you will have late delivery punishment. Fiverr dislike late delivery so much.
The buyer also doesn't want to see the late workers. Set the best time with the amount of work is the best strategy for this section.
Applying Time and Online:
It's always important for a seller to be online in fiverr. The buyer can check if you are online or offline. Sometimes a buyer may want to talk with you before order.
In that case, the online sellers will get preferences. Moving forward, If you apply early, your gig will display topper of the list. So the buyer will see your gig first.
This may bring a new sell for you. Install the fiverr mobile app and stay in touch with buyers on the go. Check Fiverr gig promotion ideas for boosting your sales.
Did you read How to get the first sale on fiverr? Read it. Discover new projects and get your offer in quicker on the best new projects
Some FAQ about buyer request:
When I can get more buyer request on fiverr?
Usually, when the working hour finished, the buyer posts the query and left the office. As buyers are from different destinations so there is no fixed hour for getting more offers.
Also, It depends on your fiverr levels. If you have more levels, you will have more requests on your dashboard. Gig category and gig number have direct relation for buyer requests.
So try to post more gigs to get more buyer requests. Here are some Fiverr gig promotion ideas for you.
Should I add a portfolio link?
Yes! You should but make sure you have placed it in the right area of cover letter. Your portfolio must be relevant to a buyer's required work.
The link should not have any personal contact details. Personal contact details in your portfolio can lead you fiverr banned.
A little self-confidence is a good thing, but over-the-top claims probably won't impress anyone. Being honest about your skills will get you much farther than a lot of hype.
Provide your buyer with a clear picture of your works and how you will contribute to the job. You will have the job for sure.
Secure Fiverr account and regular apply with the Buyer request on fiverr. You will get sales and increase making money with the marketplace.
Greensoft is providing the best WordPress solution for your business. If you need any service related to WordPress, You are welcome to contact Greensoft here on Facebook Page.