The social site is a great source for getting traffic on your website. Especially, when it comes to a new website. If you use WordPress, then I have good news for you. You can use Best social share plugin WordPress free. This article will describe the full tutorial. But first let me know, why we need to add social share options on our website?
Advantage of adding social share options in a website:
Users can share the content in their favorite social media by just a few clicks.
The plugin encourages users to share. This increases the share number.
Social share plugin will prevent you from spam sharing.
Help users to keep track of total share.
If your site has social share options then your visitor will be able to share your content. As you know, we can get a huge number of visits from social media sites like facebook, twitter and so on. Now, which plugin should you use for the task?
Which is the Best social share plugin WordPress free?
You can add a number of a plugin for social share options in your WordPress site. Among them, Simple Social Media Share is the best. There is some other popular plugin like jakpack, AndToAny, easy social share and many more. Let's see, how you can add a Simple Social Media Share plugin on your website.
Step by step guideline, how to install WordPress social share plugin:
First, please log in to your site and go to the dashboard(admin panel).
select plugin from bottom left the menu and click on add new plugin options.
search "Simple Social Media Share Buttons – Social Sharing for Everyone" and get the plugin. A screenshot is given below. The plugin has more than 40 thousand active installations.
Install and activate the plugin. go back to your dashboard again.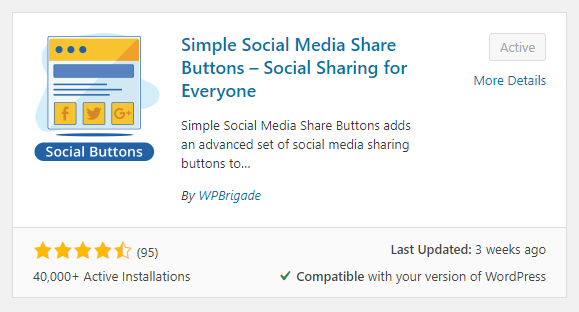 You will get a Social button option at the bottom left-hand side. Click the button and go to the plugin dashboard. It's time to set up for a better user experience.
Let's get started with the basic settings. Number 1 stats the social icon you want to show in your post. An active session is currently active and Inactive is listed social media. If you want to change, simply drag and drop the social icon.
You probably think to add all social icons. But this is not a good idea to do. In most cases, more than 4 icons will show with two lines. This will be a bad user experience. Also, if you add all the icons, chances for social share will be less. Our suggestion is to add the best 4 in every content.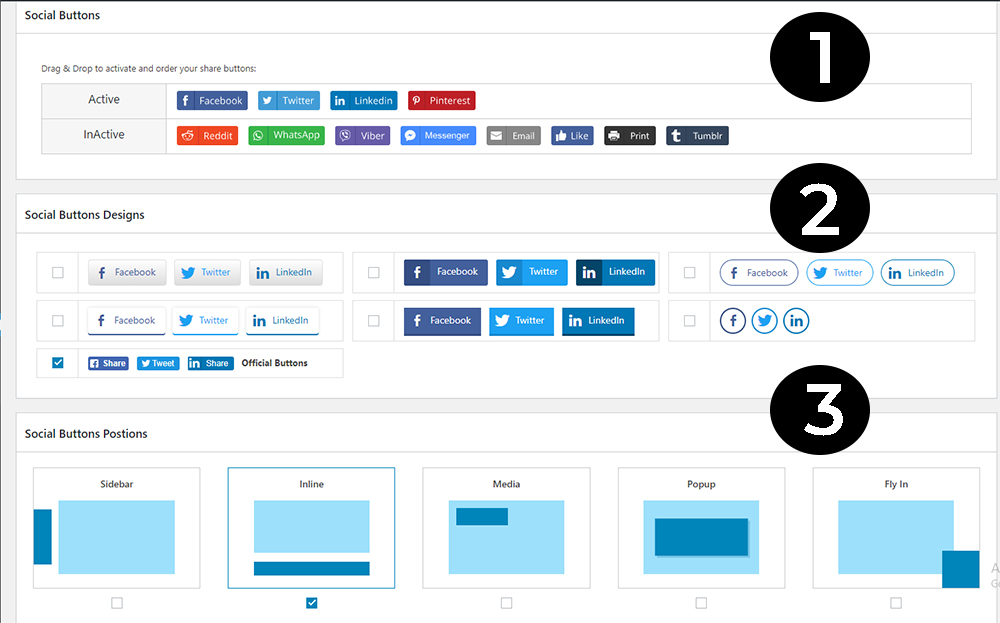 Number 2 stat the style of your social share. There is a total of 7 styles available in a free version and you can select any of them. You can view the live preview by hovering your mouse point in the targeted style.
Number 3 Stat the positions of the icons. You can add your icons on the left side, top left, middle and bottom right of each content. You can add both the top and bottom of each content. Now, this is totally up to you where to add them.
Number 4 is for settings. You can modify with the settings like add extra padding, margin, animation while hovering. The section has options like the hide in mobile devices. You can do it if you have long content.
Also, you need to select the pages you want to share. At last, you can select the type of each post. This means, what will be the post type while the share in some platform. You have options to select the share title on this page.
Once you are done, save them by clicking save changes button.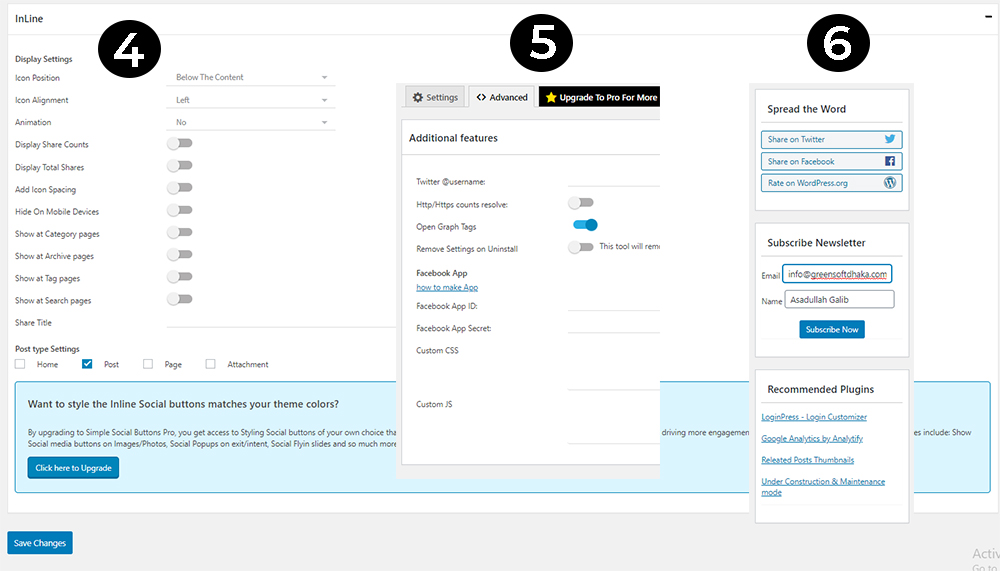 Number 5 is for the person, who knows little bit code writing. Users can set external CSS and JS in the icon list. But for that, users need to know the CSS and js. And last 6, you see there own social share.
This is the basic settings and feature of Best social share plugin WordPress free. If you face any difficulty, You are welcome to contact Greensoft here on Facebook Page. Greensoft provides all kinds of WordPress solutions.